I'm counting my gifts. I'm finding moments, gifts of grace to be thankful for, each day. Finding meaning in the mundane. Finding purpose in the everyday. Finding Him. His fingerprints on my day.
I'm linked up here.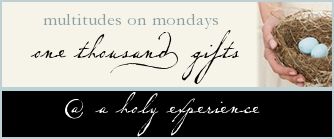 baby toes peeking out of too-big jammies
unexpected cloudy morning home my three girls
big girl beds
stuffed animals piled high
three curly bedheads
thirty minutes to make steel cut oats on the stove
felt cup cozy under my fingers
strong muscles that carry me on the treadmill
watching the sun rise on the hill in the distance as I run on the treadmill in the garage
tears that flow
legging & comfy shirt days
jammy mornings
cold feet warmed by a husband's toasty legs
rainy days at home
homemade hot chocolate
2 sisters & 1 brother
doing the hard thing, the right thing
getting there, just in time
an untimely accident, which turned out to be the last word
the blue of the sky after days of hard rain
the right husband, the right life
Ann's post today
, pretty much encapsulates the last week of my personal life. I love how you walk through something, and then God gives you the lens through which to view it after. I'm glad I did the right thing. Looking through his lens, I know I did what pleased him and more than my personal comfort, more than my human, fleshly emotions, that's what matters. Obedience feels much better on me then indulging in the flesh. And God also has a unique way of acknowledging the fleshly emotions, and rewarding us for doing the right thing, with a dose of humor. I like that about him a lot.
I wish I could provide details and share more, but it's a family thing, and I need to be respectful. But it's part of my story, and part of who I am, so I share with you these little tidbits.
I am thankful.