I purposed to take more pictures of my week, so I could have more to post today! I was somewhat successful and I'm actually posting them too. I got a little fancy too and made collages.
After last weekend's rain, I really wanted to take the girls to the snow to play. Miss Rose remembers being in the snow a few years ago but Gracie didn't and Lily never had been. We didn't get the chance until Friday, and the snow was almost gone. But my brother and sister-in-law have a cabin at a campground and we went together and the snow hill there had enough to do some sledding! The temperature was pretty warm, so even though the kids were getting wet, they weren't too cold for a while.
They were SO excited as we prepared to leave (Lily & Gracie wearing snow hats on the ride)
Lily was fearless. She wanted to sled just like the other kids and trekked up part of the hill on her own every time.
Miss Rose slid right off the sled into the dirt at the end of the hill on one of her first runs!
After an hour of a lot of fun, Gracie instantly decided she was cold and done. I had to strip off her wet pants and socks and put on some snow pants she hadn't wanted to wear before. The extra socks weren't in the truck, so we made do with some gloves. She loved her monkey toes.
Sunday was a bridal shower for my sister's best friend. I'm really excited that I get to go to Colorado for her wedding in June! I made cupcakes, all from scratch of course. They were so yummy. We played the most complicated shower game EVER. Even the girl leading the game was confused.
Monday at 8am I was sitting in the pediatrician's office. A perfect start to a Monday, don't you think? Miss Rose was complaining of various pains all over her face. She STILL had a sinus infection. So round three of antibiotics is now in effect.
Doesn't every mom carry a urine specimen cup in their purse? It's the latest rage. I'm supposed to get a urine sample the next time Lily has a fever and I messed up the other cup I had, so I grabbed one from the bathroom!
Can you tell the right side of my shoe is soaked? I thought it was done raining, but it decided to rain more in the hour we left the Ped office, took Miss Rose to school and took the girls to school. My feet were cold and wet all day.
We have some brand new rosebushes in front of our house and I'm so excited there are buds on them!
Princess mafia, represent.
Lily goes for the high heels and microphone almost as soon as she wakes up most mornings. This particular photos is in Miss Rose's room around 6:30am and Miss Rose isn't even out of bed yet.
"Are You My Mudder?" Lily's favorite book to read right now. I would like to freeze her at this age.
This pencil is at least 11 years old. Alma mater.
My favorite sandwich in the entire world. Grilled peanut butter and banana on sourdough.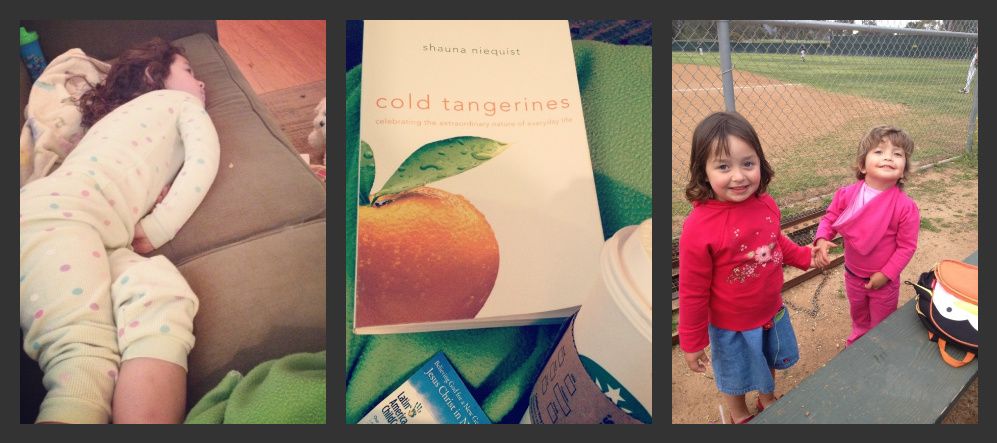 Gracie will be 5 in a week. She's so long and lanky. I'm not ready for her to grow up. She tells me she isn't going to and is going to stay with me forever. I'm okay with that.
This morning's devotions and favorite Sbux drink courtesy my rad husband. Grande Caramel Macchiato, non-fat and extra hot in case you ever want to bring me one. I rarely drink anything else from there.
Lily & Fina, the backwards jacket cousins. We were only at my nephew's baseball game for 20 minutes or so, but saw him hit an awesome home run!
That's the week!