I never promised to write 31 posts, although that is usually inherent in this particular blogging challenge.
My true goal is to find a rhythm in my life and record my thoughts along the way. Unfortunately that rhythm doesn't necessarily involved daily blogging. That's one of the hard things about rhythm. You can't always do the things you want to do. I have mentally written countless blog posts and even a few books in the past two years. i have so many things I WANT to do. But they have to wait on the shelf while I establish my rhythm and determine how to make time for them.
The last week has been difficult. I did it to myself really, although with the best of intentions. We schedule ourselves at my job.Which is nice because I can look at my calendar and family obligations and do my best to schedule around them. For instance, I don't schedule myself on Friday nights or Saturday day because we have two soccer games each Saturday--one of which Bean coaches. And if the games are at the same time, we are both needed.
This past week the soccer games were hours apart and the schedule had openings for day shifts on the weekend. And so I scheduled myself to work Friday, Saturday and Sunday days. I managed those three days ok and was happy to at least see my family for a short time each night.
The difficulty arose when Monday morning came. Because I had also committed to my other side job for two days of event childcare. I was lacking physically and emotionally, but I had to suck it up and go.
I'm good at sucking it up. For however long and however much needed. The price comes later, just like a credit card bill demanding to be paid.
Wednesday I was a bit of a basket case. I am in a state of limbo, waiting for results on my nursing board exam. Most get results in a matter of days. And then there are a handful of us who wait weeks---for no apparent rhyme or reason. I was too tired to exercise. I was overwhelmed by how behind I felt in life. I was tired of waiting and not knowing and having to tell people, "I still have no results."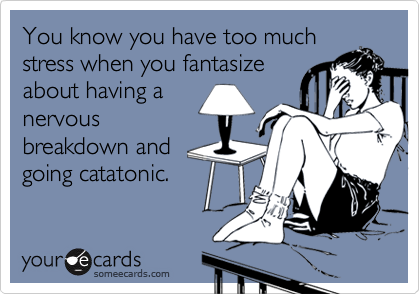 Everything is magnified when I'm in that state. I feel lonely and forgotten. I only can list the ways I'm failing as a wife and parent. I doubt myself, my decisions and my future. I worry about getting hired as a nurse and the impending loan payments for my newest degree. The one I don't yet have the license to go with. I feel like we are so far behind in keeping up with our home and belongings, we will never be able to afford to catch up. Our couch is seriously broken, our mattress is as old as our marriage, the entire family needs fresh bedding and let's not even talk about how fast my kids grow out of clothes and shoes and are constantly wanting to eat.
I had a good cry and then a good time with God, finding my center and my foundation once again. I know I have to take it easy on myself and my schedule when I'm recovering from doing too much. I do what has to be done and leave the rest. It is hard for me to hold back, to not tackle the projects I have or the deep cleaning my house always seems to need.
Thursday I was in a slightly better emotional state, but still feeling so drained. It takes twenty minutes for my eyes to stop being blurry when I wake up in the morning. The kids are lucky I manage to make their lunches correctly as I rub my eyes over and over again trying to force them to fully wake up.
I learned my lesson. I am learning. I won't be committing to so many days of work in a row. I will trust God for provision and remember he doesn't want me to have a breakdown because I am working too much. That's not good for me or my family.
I just started reading
The Best Yes by Lysa Terkeurst
and it is just what I need. I am only a few chapters in, but it's giving me so much to reflect upon. I sometimes lack appropriate boundaries and commit to too much--usually for good reasons. But not always the BEST reasons. And I do want to choose what is best. It goes back to
Mary and Martha
. Jesus told Martha that Mary had chosen what was better.
I want to choose what's better, the best. In every area of my life.
I also want to sit on the balcony of a cabin on a cool crisp morning drinking coffee while enjoying a view of majestic mountains.
I can dream, right?