I love music. I love singing. I love listening to music.
The most played station on my Pandora is based on
Bethel Music
. I love the voices, the lyrics, the swell of their songs. Recently I discovered the Amazon Prime Music App. If you have Amazon Prime, you need to take advantage of this app! You can stream and download tons of music for free. Newly released music isn't always available, but after some time it's often there. I recently added the Bethel Albums "
Tides
" and "
You Make Me Brave
" to my Amazon app.
One of the songs I discovered not too long ago and have listened to countless times since, is "It Is Well." That has always been one of my favorite hymns. When I was a senior in high school I paid for my own piano lessons and remember learning to play a simple version of that song and loving it. (I didn't stick with piano, but I want to go back and learn again).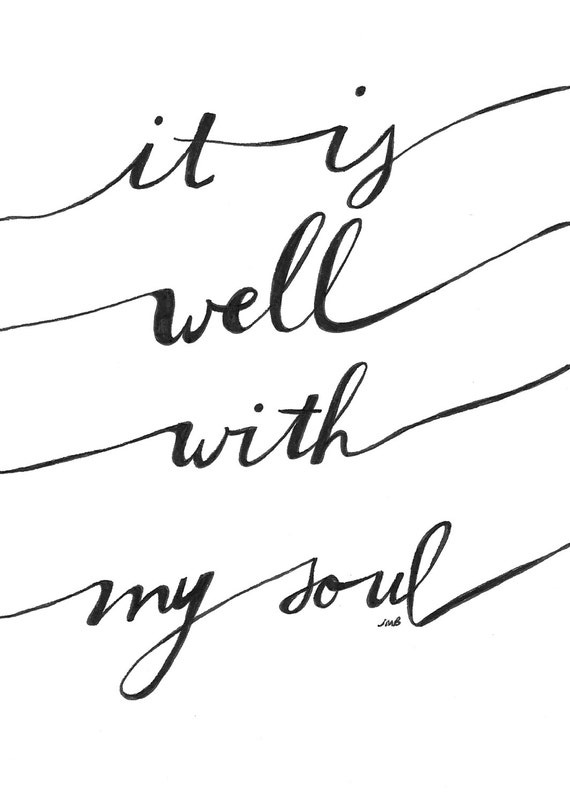 This song by Bethel
uses the chorus of the traditional hymn with their own verses. I love the original verses as well.
When peace like a river, attendeth my way
When sorrows like sea billows roll
Whatever my lot, thou has taught me to say
It is well, with my soul
There are many days I need to be reminded that it is well with my soul. No matter what the day holds, no matter my disappointments and frustrations, no matter the curveballs and strikeouts--God is sovereign, he is on the throne, he is the night watchman calling out that all is well.
I can let go, and trust in him.